Avus, Be My Chose, Blast and Massi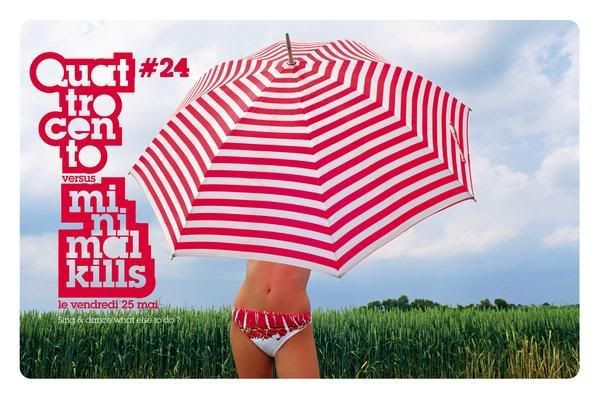 0h00?-2h30: Massi
I didn't head out of my place until almost 1h00, so I rolled into La Scène around 1h30 to the sounds of Massi spinning. After getting past the guest list (this time the doorman didn't try to mess with me like that other time), I checked my coat and wandered into the main room. I quickly ran into Fantômette, who introduced me to a friend that she was talking to. There was an odd moment during the introduction; as I extended my hand for a handshake, he leaned in to faire la bise (exchange air-kisses on each cheek). This is a recurrent problem for me; the boundary between when a handshake is appropriate between men and when a kiss is required seems like a moving target to me. Anyway, this registered as a sort of rejection on my part, so he suddenly looked a bit uncomfortable and said, "Oh, I thought we were going to faire la bise..." Trying to recover from my faux-pas, I quickly leaned in to kiss him and said, between kisses, "Excuse me, I'm... *kiss* ...Canadian, and I don't have... *kiss* ...the habit of kissing people." This wasn't entirely true, since I've adapted quite well to la bise on the whole, but if my foreignness can help explain and justify my confusion around male-male kissing, so be it.
After chatting with Fantômette for a while (and promising her a set of translations that I am still behind on--sorry Fantô!), I headed off to see who else had arrived, and ran into Nathan. Nathan, of course, I knew well enough to kiss. In fact, we had exchanged kisses the first time we met somewhat at random back in September. Anyway, we exchanged kisses--pressing our lips to each other's cheeks rather than pressing our cheeks together and kissing into thin air, which implies sincere affection rather than politeness or familiarity--and we got caught up. It had been a while since I had seen either Fantômette or Nathan, since most of the weekends in May had been spent in Berlin, Nantes and elsewhere. I hung out with Nathan and regaled him with stories of my Berlin trip until about 2h00, when he and Fantô started heading toward the stage to start their own set.
During all this while, Massi's set was going on in the background. It was a mostly minimal techno set, although most of the tracks were rather busy in the mid-layer and reminded me of pared-down electro tracks. Either way, since it was a warm-up set, the whole thing was rather low-intensity. I had a real difficult time getting a good picture of Massi (as well as the DJs after him), since the party organizers had erected a bright projection screen behind him, but then vastly underlit Massi himself. You can sort of see what I mean in the video below.
I was really impressed with Nathan and Fantômette's set tonight. Their selection and pacing worked really well with the crowd, and their mixing was clean and technically correct. As one of my friends, S., said, "They've made some advances since they've started!" That's a pretty literal translation of what he said; more idiomatically, he was saying that they had improved a lot.
Alas, I did not have the good fortune of previous instances to capture their best moments on video. The clips that I have capture pretty interesting parts of their set, but I'm afraid I missed most of the best transitions and peaks. Also, you'll have to forgive the photographs; clearly I need an expensive digital SLR. Any donations?
3h30-5h00: Avus
As you can hear from the videos below, Avus' sound shifted throughout his set. This British techno DJ (recently signed on to James Holden's Border Community record label) started off with a very straightforward, hard Detroit techno sound, which quickly took on aspects of acid house (his website is sub-titled "Acid House Like Mum Used to Make"), and eventually veered into tech-house and microhouse. As you might guess from my other postings on this site, I was less excited about the acid house, and more excited about the miminal/microhouse. Nonetheless, a great set all around.
It was during this set as well that I started doing my first round of "Hey, I'm leaving in a month; how about an interview?" I had already suggested interviews with some of my friends and contacts since January, but my impending departure placed a deadline on things that I hope will convince folks to make some time for me. I've tried very hard to not be too pushy while I've been here; unlike in some other ethnographic situations, the folks that I'm working with have little to gain from contact with me (in a material sense, at least), and they circulate in a scene that can often be hostile to sociological/anthropological scrutiny. I suppose this is especially true in France, birthplace of modern sociology, where there seems to be a long collective memory of social studies and their Foucauldian implications.
Anyway, my discipline calls for audio-visual evidence of my fieldwork, and I must answer.
5h00-6h00: Blast
I have to admit that I was a bit sceptical as Blast's set started, but it quickly went in a direction that I found really enjoyable. I think the set was closer to electro than minimal or microhouse in its aesthetic, but he still managed to work in a lot of minimal techno and house tracks into the mix. The set was a bit more festive and upbeat, compared to Avus' rather aggressive and serious set. Either way, I enjoyed the greater part of the set, although eventually I had to throw in the towel and head home.